Further favourable reviews of 'Sparta's German Children'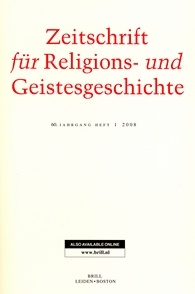 A favourable review of Helen's monograph, Sparta's German Children: The ideal of ancient Sparta in the Royal Prussian Cadet Corps, 1818-1920, and in National Socialist elite schools (the Napolas), 1933-1945, has recently been published in the journal Zeitschrift für Religions- und Geistesgeschichte.
The reviewer, Prof. Dr. Lukas Bormann, concludes his remarks as follows:
'[This] highly readable and precisely-argued volume vividly demonstrates the ways in which clichés of humanistic education can be combined with totalitarian viewpoints… 28 illustrations and five tables develop and exemplify in arresting fashion the thesis of this important research project, that, through mythologisation on the one hand and self-identification on the other, the Spartan model shaped training of the Prussian and German military for nigh on two centuries.'
To access the review online, click here.
Sparta's German Children has also received reviews (all positive) in The Classical Review, H-Soz-u-Kult / Historische Bildungsgeschichte Online and Archiv für Sozialgeschichte.