Sparta's German Children: The ideal of ancient Sparta in the Royal Prussian Cadet-Corps, 1818-1920, and in National Socialist elite schools (the Napolas), 1933-1945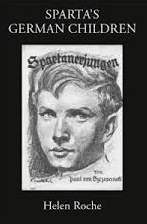 Swansea: Classical Press of Wales, 2013
Publisher's blurb:
The use by the Nazi regime of idealised images of ancient Sparta is increasingly recognised as an important element of the Third Reich. This work explores the historical roots and the personal effects of these ideals. The author uses new archival research and freshly-elicited eyewitness testimony to study the Royal Prussian Cadet-Schools, which trained boys from the age of ten to become army officers, and the Nationalpolitische Erziehungsanstalten (Napolas), which aimed to educate the future elite of the Third Reich.
She shows that, for over a century, the Spartan paradigm was considered a crucial element in the formation and socialisation of Prusso-German military commanders, and that cadets regarded Spartan youths as their ultimate role-model. During the Third Reich, these ideas were transmuted in accordance with Nazi racial ideology, which presented the Spartans as the most Germanic and racially pure of all Greeks. Pupils at the Napolas were taught the importance of the Spartan example, particularly in terms of heroism and self-sacrifice. A feature of this book is the revealing information its author has collected by interviewing survivors who, as children in the dying years of the Third Reich, were exposed as pupils to Nazi educational methods and ideals.
Thus far, Sparta's German Children has received reviews (all favourable) in the following periodicals:
For more information on the doctoral research project on which the book is based, click here.
You can view the table of contents here.
If you are interested in purchasing a copy, click here.