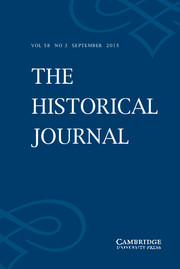 'The Peculiarities of German Philhellenism'
The Historical Journal 61 (2), 2018, pp. 541-60.
Studies of German philhellenism have often focused upon the idealization of Greece by German intellectuals, rather than the political relationship which existed between contemporary Germans and the Greek state from the Greek War of Independence onwards. This review essay explores the extent to which recent research affirms or rebuts the notion of a Hellenophile Sonderweg when interpreting the vicissitudes of the Graeco–German relationship.Read more...