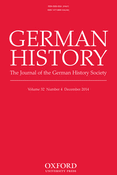 German History journal "Best Article of 2015 Prize"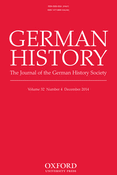 'Surviving Stunde Null: Narrating the fate of Nazi elite-school pupils during the collapse of the Third Reich'
German History 33 (4), 2015, pp. 570-87. Winner of German History journal's "Best Article of 2015" prize.
This paper considers the experiences of one particular, rarely-discussed group of 'war children': former pupils of the Napolas – the most prominent type of Nazi elite-school. Drawing upon a variety of original testimonies, the paper explores the hardships and dilemmas which Napola-pupils faced as World War II drew to a close, and the ways in which former pupils have constructed this aspect of their past.Read more...