'The Peculiarities of German Philhellenism'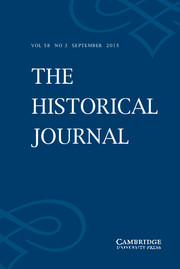 The Historical Journal 61 (2), 2018, pp. 541-60.
Studies of German philhellenism have often focused upon the idealization of Greece by German intellectuals, rather than considering the very real, at times reciprocal, at times ambivalent or even brutal, relationship which existed between contemporary Germans and the Greek state from the Greek War of Independence onwards.
This review essay surveys historiographical developments in the literature on German philhellenism which have emerged in the past dozen years (2004–16), drawing on research in German studies, classical philology and reception studies, Modern Greek studies, intellectual history, philosophy, art history, and archaeology.
The essay explores the extent to which recent research affirms or rebuts that notion of German cultural exceptionalism which posits a Hellenophile Sonderweg – culminating in the tyranny of Germany over Greece imposed by force of arms under the Third Reich – when interpreting the vicissitudes of the Graeco–German relationship.
The discussion of new literature touches upon various themes, including Winckelmann reception at the fin-de-siècle and the anti-positivist aspects of twentieth-century philhellenism, the idealization of 'Platonic' homoeroticism in the Stefan George-Kreis, the reciprocal relationship between German idealist philhellenism and historicism, and the ways in which German perceptions of modern Greece's materiality have constantly been mediated through idealized visions of Greek antiquity.