The Third Reich's Elite Schools: A History of the Napolas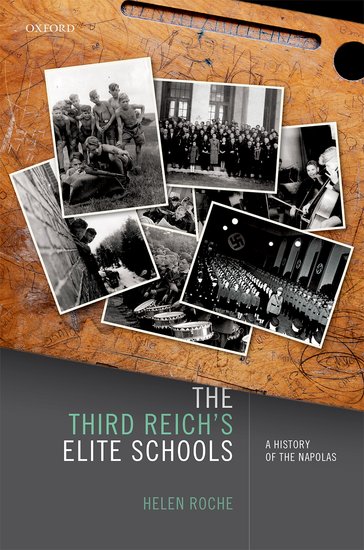 Oxford: Oxford University Press, 2021.
Drawing on material from eighty archives in six different countries worldwide, as well as eyewitness testimonies from over 100 former pupils, Helen Roche presents the first comprehensive history of the Third Reich's most prominent elite schools, the National Political Education Institutes (Napolas / NPEA). The Napolas provided an all-encompassing National Socialist 'total education', featuring ideological indoctrination, premilitary training, and a packed programme of extracurricular activities, including school trips and exchanges throughout Europe and beyond.
Combining all the most seductive elements of reform-pedagogy, youth-movement traditions, and the militaristic ethos of the Prussian cadet schools, the schools took pupils from the age of ten, aiming to train them for leadership roles in all walks of life. Those who successfully passed the gruelling entrance examination, which tested applicants' physical prowess, courage, and alleged 'racial purity' along with their academic abilities, had to learn to live in a highly militarized and enclosed boarding-school community.
Through an in-depth depiction of everyday life at the Napolas, as well as systematic analysis of the ways in which different schools within the NPEA system were shaped by their previous traditions, this study sheds light on the qualities which the Nazi regime desired to instil in its future citizens, whilst also contributing to key debates on the political, social, and cultural history of the Third Reich, demonstrating that the history of education and youth can illuminate the broader history of this era in novel ways. Ultimately, the NPEA can be seen as the Nazi dictatorship's most effective educational experiment.
---
Thus far, The Third Reich's Elite Schools has received reviews (all favourable) in the following newspapers and journals:
Frankfurter Allgemeine Zeitung (13 May 2022)
History of Education (June 2022)
Historische Zeitschrift (December 2022)
Cultural and Social History (February 2023)
Historical Studies in Education / Revue d'histoire de l'éducation (Spring 2023)
Neue Politische Literatur (September 2023)
German History (September 2023)
---
For more information about the research project on which the book is based, click here.
You can view the table of contents here.
If you are interested in purchasing a copy, click here.