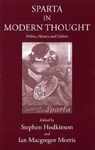 Helen's article '"Spartanische Pimpfe": The Importance of Sparta in the Educational Ideology of the Adolf Hitler Schools', has been published in Sparta in Modern Thought, ed. Stephen Hodkinson, Ian Macgregor Morris (Swansea: Classical Press of Wales).
For more information and to read an abstract, click here.
To read the University of Nottingham's press release, click here.